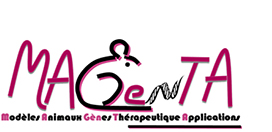 MAGenTA is a public-private partnership project involving companies working on experimental models and clinical trials dedicated to urogenital diseases.
MAGenTA is an industrial research project formed to accelerate the selection and validation of new and effective treatments for major urogenital.
This translational research program will pool technical and human resources allocated to the development and characterization of novel and predictive experimental models of urogenital diseases, which will enable validation of the effectiveness of a new generation of therapeutic molecules.
The five years project is managed and coordinated by Vectalys and includes three other companies (Ixaltis, Urosphere and Vectalys) and two academic institutions (L'Institut de la Clinique de la Souris and l'Ecole Nationale Vétérinaire de Toulouse) belonging to two clusters (Alsace BioValley and Cancer-Bio-Santé in Toulouse respectively).
SCIENTIFIC PARTNERS


CLUSTERS & BUSINESS PARTNERS